The Mushroom Renaissance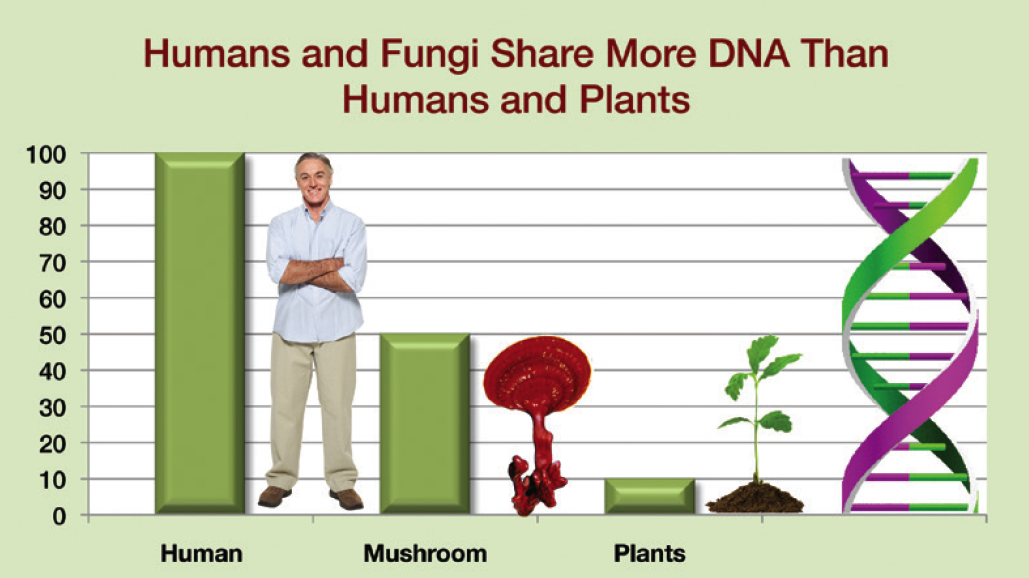 Mushrooms have been used cross-culturally for centuries as food, clothing, tools and medicinals. Examples include:

7,000 year-old Tassilli cave paintings
Mushrooms found on 5,300-year-old Neolithic Otzi the Iceman
The ancient writings on mushrooms in the Yellow Emperor's Classic of Traditional Chinese Herbal, dated 1644
The Genetic Connection
Humans and fungi share more DNA than humans & plants

Fungi and humans share in common infections from the same microbial pathogens. However, fungi, after millennia of evolution, are infinitely more adept at manufacturing compounds to combat these pathogens.
Because of the similarities between fungi and animals, we can digest, assimilate and utilize these fungi as functional foods. Most everyone is familiar with the fruitbody (or mushroom cap), which is the end stage of the fungal life cycle.
The Mycelium holds the crucial life functions of the mushroom organism
The Fruitibody is the reproductive stage
The Spores represent seed-like capsules for complete regeneration
Thousands of Compounds
Compounds found in the fruiting body are just one piece of the full constituent offerings of mushrooms. Novel compounds exclusive to mycelium and the substrate (or food source), are used in combination to create a broader range of available health-promoting constituents.
 
Functional Food Everyday
Mushrooms have been used throughout history as functional foods.  Across the globe they provide macro- & micro-nutrients, while simultaneously conferring benefits to multiple systems in the body.
Optimal Host Defense
Functional food mushrooms support the body's immune system.
Cultural and traditional use, along with current scientific research, has shown mushrooms have positive correlation with certain functional systems and pathways in the body.
We see this with:
Reishi and the cardiovascular system
Chaga and antioxidant support
Turkey Tail and immune support
Lion's Mane and brain/nervous system support
Mushrooms Offer Support for a Multitude of Body Systems 
Examples include support for:
•  Cardiovascular System  •  Digestive System  •  Neurological System  •  Immune System  •  Reproductive System  •  Integumentary (Skin) System  •  Skeletal System  •  Muscular System
Multiple Mushroom Species As a Wellness Strategy
Research by Paul Stamets demonstrates that a combination of mushroom species increased immune activity compared to single mushroom species.
In 2003, a study was published in the International Journal of Medicinal Mushrooms, "Potentiation of Cell-Mediated Host Defense Using Fruit Bodies and Mycelium of Medicinal Mushrooms."         
This 7 mushroom blend, Stamets 7, is highly active in immune markers, and can be taken everyday like a multiple.
For educational purposes only. © 2013 Paul E. Stamets and Fungi Perfecti, LLC, All rights reserved.