Host Defense Recipe Book
Cooking with Mushroom Mycelium Powders
DOWNLOAD NOW
#1 BEST-SELLING MUSHROOM BRAND IN THE U.S.
10 Mush-Try Recipes
In this recipe book you'll find just a few of the ways we like to use our versatile mushroom powders. All of our powders can be mixed into hot or cold beverages, added to recipes, or blended with your favorite smoothie... Myceli-YUM™!

Here's a small taste of what you'll find inside:
REISHI VEGAN CHILI
Ingredients:
4 Tbs Host Defense® Reishi Powder
1 1/2 tbsp Olive Oil
1/2 of a Large White or Yellow Onion, diced
2 cups Sweet Potatoes, peeled and chopped
1 tbsp Garlic, minced
1 tbsp Jalapeño, minced
1 tbsp Chili Powder
1/4 tsp Ground Cumin
1 tsp Cayenne Pepper
1/2 tsp Onion Powder
1/4 tsp Garlic Powder
Salt and Black Pepper to taste
1 can Pinto Beans, drained
2 cans Black Beans, drained
1 can Fire-Roasted Diced Tomatoes
1 1/2 cups Vegetable Stock
Optional Toppings: Sour Cream, Shredded Cheese, Lime Juice, Cilantro
Directions:
Heat oil in a large pot over medium heat, add onion and saute for 3 minutes.
Add the sweet potatoes and stir until tender, about 10 minutes. Add in the next seven ingredients and stir until fragrant.
Add in the drained beans, diced tomatoes, and vegetable stock. Stir everything and bring to a boil. Reduce heat to a medium low and cover the pot. Allow to simmer for 8–15 minutes or until sweet potatoes are tender.
Remove from heat and season to taste with salt and pepper, then stir in the Host Defense® Reishi Powder. Serve with additional toppings if desired.
COMPLETE CALM CRANBERRY ALMOND COOKIES
Ingredients:
2 tbsp MycoBotanicals® Complete Calm™
2 tbsp Ground Flaxseed
6 tbsp Water
1/2 cup Coconut Oil, melted
1/2 cup Sugar
1/4 cup Brown Sugar
1 tsp Almond Extract
1 1/2 cup Flour (or gluten-free alternative)
1/2 tsp Baking Powder
1/2 tsp Baking Soda
1/2 cup Rolled Oats
3/4 cup Dried Cranberries
1/2 cup Sliced Almonds
Directions:
Preheat oven to 350°F. Mix together flaxseed and water in a small bowl to make flax eggs. Let sit for about ten minutes.
In a large bowl, mix coconut oil, sugars, flax eggs, and almond extract until well combined. Sift in flour, baking powder, and baking soda. Stir until combined.
Fold in oats, cranberries, almonds, and MycoBotanicals® Complete Calm.™
Scoop cookies two inches apart onto baking sheet lined with parchment paper. Bake for 20–22 minutes, until lightly golden around the edges.
Enjoy!
TURKEY TAIL BRAZIL NUT SMOOTHIE
Ingredients:
1 tsp Host Defense® Turkey Tail Powder
1 cup Almond Milk
1/4 cup Plain Yogurt
1 Banana
6 Brazil Nuts
1 cup Frozen Mango & Strawberries
Handful of Ice
Directions:
Add all ingredients to a blender and puree until smooth.
Pour into a bowl and garnish with strawberries, Brazil nuts, granola, and coconut.
Enjoy!
Vegan, Gluten-free & Certified Organic
Host Defense® powders are made from certified organic beneficial mushroom mycelium grown on our farm near the Olympic Rainforest in Washington State.

Whether you're looking for system-specific support, overall wellness support, or immune support, there is a Host Defense® powder to fit your needs as part of your daily supplement regimen.*

With single-species, multi-species, and MycoBotanicals® blends, our powder line offers a convenient and easy way to support everything from the brain and nervous system, to energy, mood, microbiome health, and the immune system.*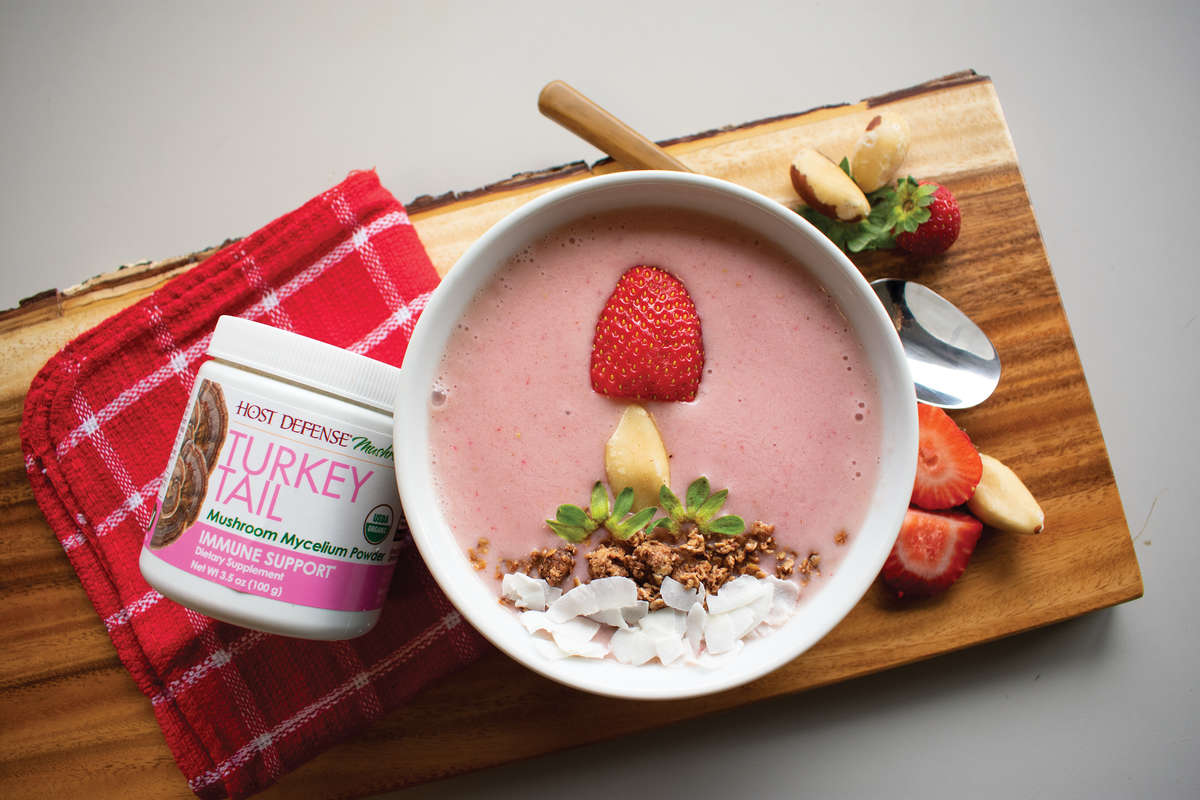 Mushroom Powders
Our mushroom mycelium-based powders have a mild flavor profile, offering flexibility in how you choose to use them.


Lion's Mane - Known as the "Smart Mushroom," Lion's Mane is an ideal choice for anyone seeking cognition and memory support. Supports neurological function, a balanced mood, and an engaged yet balanced immune response.*


Reishi - The #1-selling nutraceutical mushroom species worldwide. Reishi has long been used to promote cardiovascular system health, to help the body's natural ability to adapt to stress by down-regulating the flight or fight response, and for overall wellness support, longevity, and vitality.*


Turkey Tail - One of the best-documented mushroom species in scientific research, Turkey Tail supports an engaged yet balanced immune response. As a prebiotic food for our microflora, it has also been shown to improve the gut microbiome.*


Chaga - Well-known for its health-supporting properties. We use sustainable cultivation methods for the Chaga in our products. Chaga offers antioxidant and DNA support against daily free-radical damage and supports an engaged and balanced immune response.*
POWERED BY MUSHROOM MYCELIUM™
Mushroom & Herb Powders
Our MycoBotanicals® powders have a gentle flavor profile depending on the herbs found in the formula.


Brain & Body™ - The perfect combination of Lion's Mane and Reishi mushroom mycelium to support brain function, cardiovascular health, and overall wellness. Cinnamon Bark, Turmeric, Black Pepper, and Ginger add spice while also promoting a healthy body.*


Complete Calm™ - Designed to support a calm and relaxed body and mind, promoting adaptation to stress and quieting overactive thinking. Lion's Mane and Reishi have been studied for their impact on sleep quality, latency, and duration, and they also promote a balanced mood. Skullcap and Passion Flower calm the nervous system. Holy Basil is a stress-modulating adaptogen.*
Caution, this product may cause drowsiness.


Microbiome - A blend of organic mushroom mycelium, herbs, and shelf-stable probiotics that soothes the intestinal tissue, supports a balanced immune response, and encourages a strong presence of probiotic microflora. Turkey Tail supports beneficial microflora in the digestive and gastrointestinal ecosystem. Marshmallow Root and Burdock support healthy intestinal tissues.*


Greens - Amplify your daily intake of mushroom mycelium and greens! Lion's Mane supports brain health, the nervous system, and the immune response. Superfoods Stinging Nettles and Moringa help balance the immune system and promote cellular health through antioxidant activity.*