What Is the Stamets P Value® System?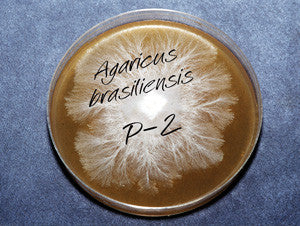 An unavoidable fact that affects all life on this planet—including humans and fungi—is that we age. When we are young, the number of downstream cell divisions is vast, but incrementally declines as we grow older. Recently, cell division limiting factors have been attributable to a shortening of telomeres, the protective region at the end of the chromosome, and the role that the enzyme telomerase plays in the repairing and replication of chromosomal DNA. These models serve to explain what we all know: as we age, we become less vital and more susceptible to disease.
The same is true with mushroom strains. In the 1980's, I developed the proprietary Stamets P Value® system for tracking the age of strains, as measured by their successive growth over a nutrient-filled petri dish. When a strain is first isolated from a mushroom in the wild, and getting the mycelium to grow from the mother mushroom onto a petri dish, it is labeled P-1. After a week or so, the strain will be transferred to a new petri dish which is then designated as P-2, and with each successive transfer, the P Value increases accordingly. This has proven to be an important method for both maintaining strains at peak vitality. The P Value system is key to providing our customers with fungal strains with the greatest efficacy and genetic vitality.
Mushrooms have immune systems just like people. Over the years, I have received mushroom cultures from fellow mushroom enthusiasts, with no information on their age. Often these cultures would suddenly slow in their growth, become more susceptible to disease or even stop growing altogether. Strains that were progressively cultured from low P Values out-performed the very same strains that had high P Values. The strains that we isolate here at Host Defense are kept close to their wild genetic origins, maintaining exceptional vigor and disease resistance. We are able to keep the P Value low by making sufficient backups of the cultures during the original culturing, and storing pure master cultures under deep refrigeration in our mycological laboratories. In essence, most of our mushroom strains are genetically just a few weeks old, even though some of the rarer strains may have been isolated decades ago.
In mushroom culture, small mistakes make for big problems. Even today I am surprised at how unfamiliar many culture libraries are with the importance of maintaining young cultures. Amongst the general public, most people do not realize that a small fragment of tissue, the size of your little finger nail, is expanded into hundreds or even thousands of pounds of fungal biomass in a short period of time. Unless the strains have sufficient vitality, they will often fail to produce healthy, vigorous mycelium, containing all the beneficial compounds found in identical strains growing in the wild. What this ultimately means is that the consumer may be getting a product that is far inferior to ones grown from younger strains of mushrooms.
With Host Defense's nearly four decades of experience, a verifiable chain-of-custody, and the use of stringent quality-assurance tools such as the P Value system, we strive to provide the highest quality products available in the world today. From the Forest, to Our Farm, to You™.
—Paul Stamets
For educational purposes only. © 2013 Paul E. Stamets and Fungi Perfecti, LLC, All rights reserved.