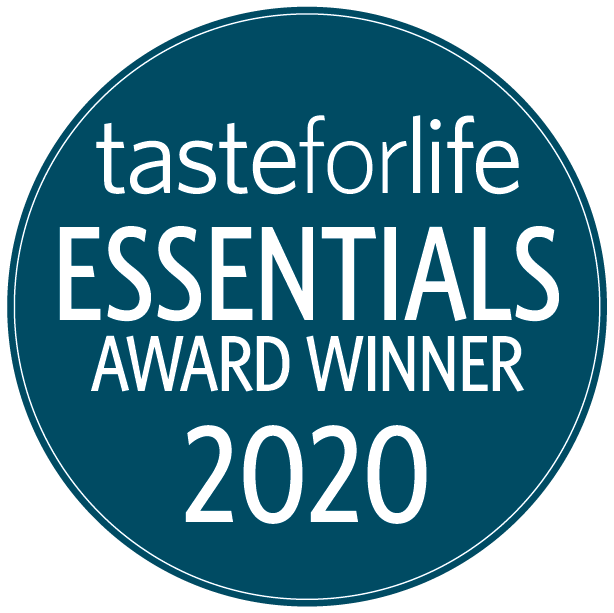 Taste For Life has selected Host Defense Elderberry Plus Syrup as a winner of their Essentials Award for 2020!
"The Smart Mushroom"
Lion's Mane Mushroom Mycelium
Whether you're trying to learn a new skill, keep your mental edge at work or school, or support memory and cognition, our Lion's Mane capsules are designed with you in mind. Lion's Mane is well-known as "The Smart Mushroom" for its support of brain health. What you might not know is that Lion's Mane has also been shown to support nervous system health by increasing Nerve Growth Factor, as well as supporting a calm mind for a balanced mood and better sleep. One of the great things about our certified organic Lion's Mane mushroom mycelium is that it supports the immune system too!*


Vegetarian Pullulan Capsules
Our capsules are free from preservatives and gluten and made from Pullulan, a non-GMO, naturally fermented polysaccharide polymer that protects the mushroom material within.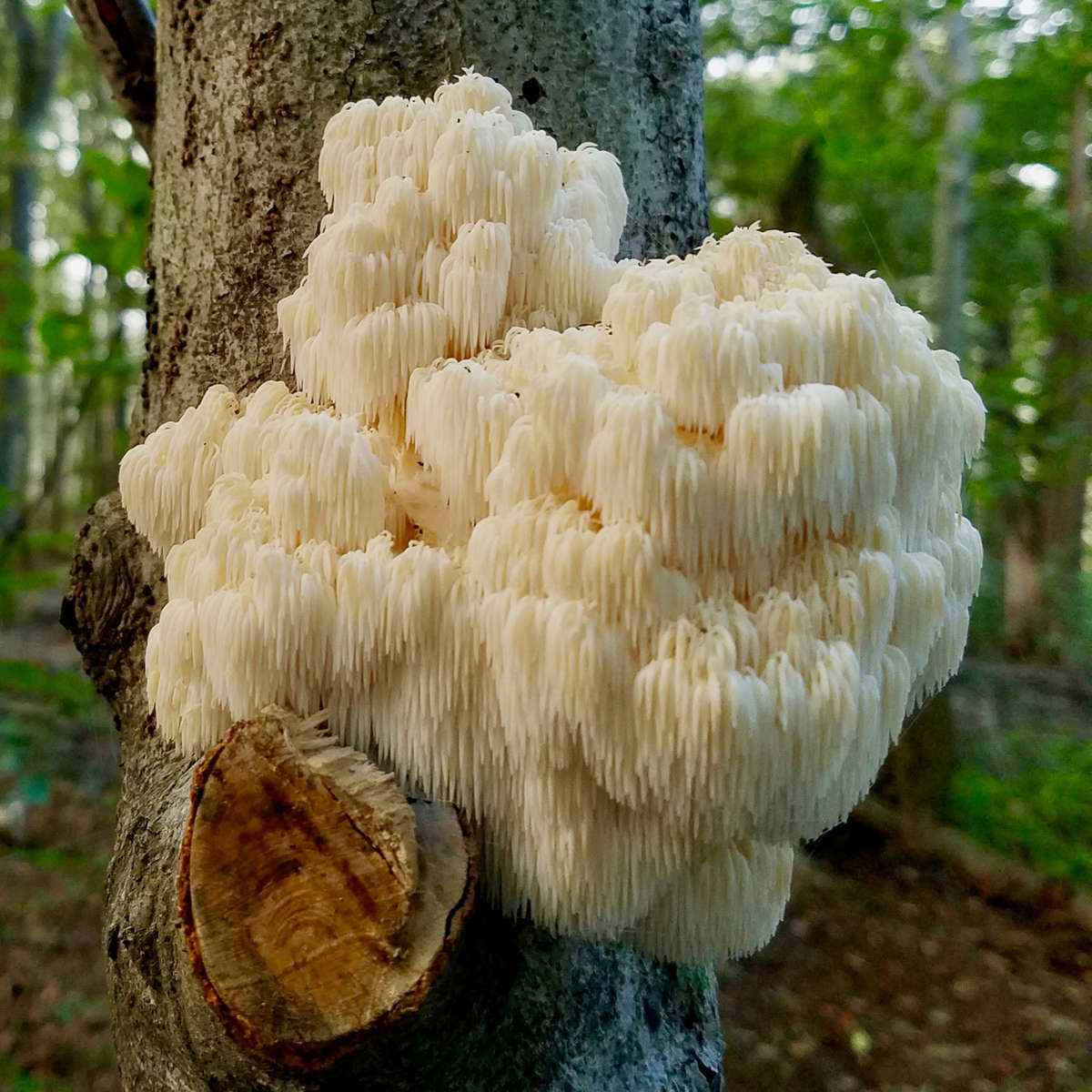 Convenient for Daily Use
Lion's Mane capsules are easy to add into your daily supplement regimen:
Take Anytime - Easy to take on-the-go, with food or without, on an empty stomach, or as recommended by your healthcare advisor
Mess Free - No prepping, cooking, mixing, or cleanup necessary
Shelf Stable - No need to refrigerate or freeze, our capsules should be stored at room temperature in their bottle
Certified Organic Ingredients
Sustainably Cultivated in the U.S.A.
Lion's Mane (Hericium erinaceus) Mycelium - 1g Per Serving
Grown on our farm near the Olympic Rainforest in Washington State, Host Defense® mushroom mycelium-based Lion's Mane is organic, vegan, non-GMO, and gluten-free.

At Host Defense® we grow our mushroom mycelium on organic brown rice because it converts into a new and highly beneficial spectrum of compounds once it's been fermented by the mycelium.

Serving size = 2 capsules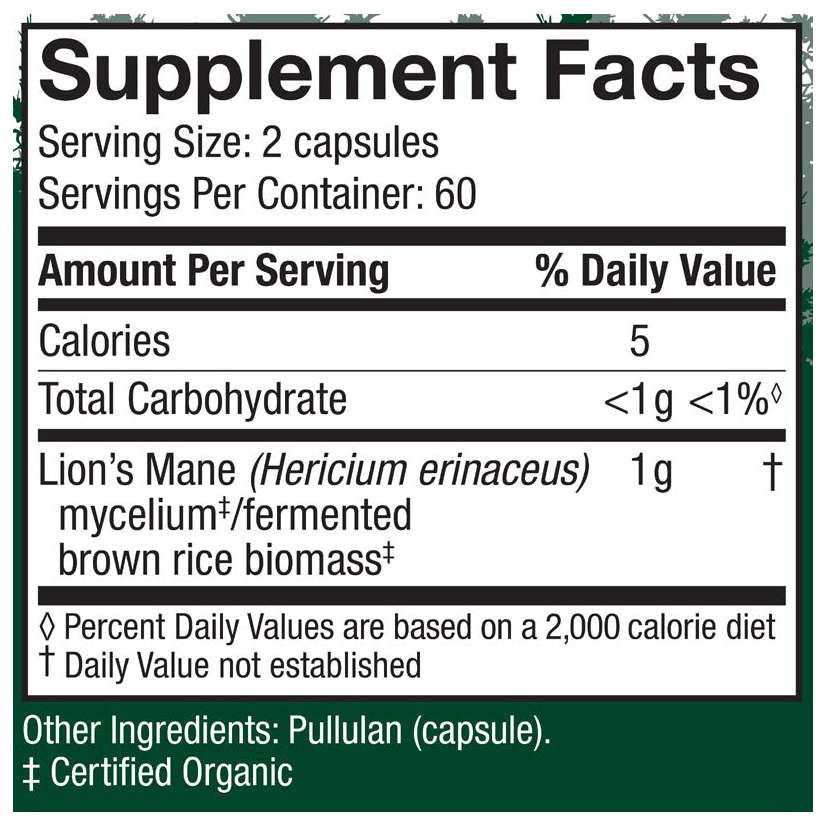 Supports Multiple Body Systems
For Your Brain, Nervous System & Immune Response*
Promotes mental clarity, focus & memory.*
Supports a balanced mood.*
May increase Nerve Growth Factor to support nervous system health.*
Supports an engaged & balanced immune response.*
*These statements have not been evaluated by the Food and Drug Administration. This product is not intended to diagnose, treat, cure, or prevent any disease.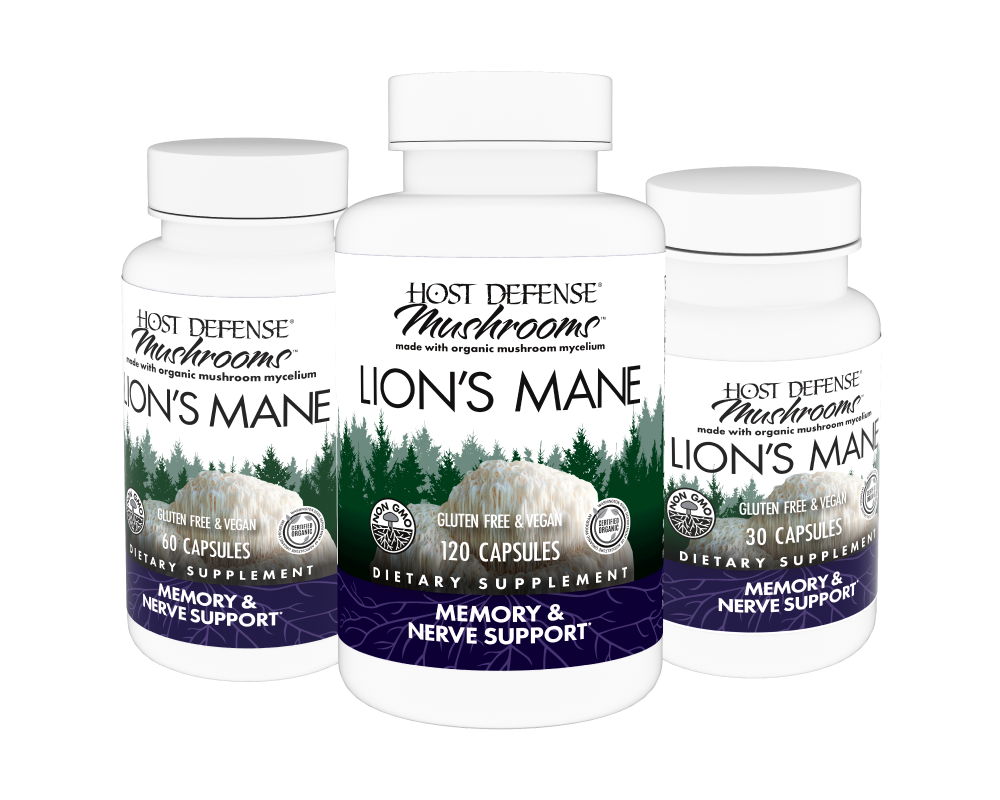 Bulk Discounts:
Buy 4 or more Host Defense products and save 20% with code BULK20 at checkout
Buy 12 or more Host Defense products and save 25% with code BULK25 at checkout